A few days ago, my family and I attended a most inspiring event in the hills of the San Francisco peninsula: a recital hosted by our friend Alec Lytle on his beautiful property on King's Mountain, in the Woodside wilderness. Part of a series started a few years ago by Ben Kessler and Jill Shaw, the goal of these recitals is for everyone to perform something… music, poetry, dance, a reading, show a piece of art… just be creative in some way, regardless of ability or talent.  The environment is always supportive of any attempt.
Since the series started, many of us have gained dogs and/or kids, so there were plenty of both present – performances in their own way (as our host eloquently put it).
This event had the amazing power to pull me out of my musical slumber. I could have easily done something theatre-related, but I thought "what a great chance to not!"
One year ago, I bought myself a beautiful, red, shiny saxophone, planning to get back into playing. I was a tenor sax player in college, with the Stanford Band, and hadn't played since graduation. I named him Yarek (the saxophone), which was my saved boy-name, if I ever had one (I have two girls). Except for a wild, short stint at the 2010 Stanford Band reunion, Yarek sat quietly in his box, waiting.
The day before the recital, I took Yarek out of his box and figured out how to play the beginning of the Pink Panther theme. It took me about one hour, I sweated profusely (which was weird), and I ran around the house screaming with happiness when I finished the entire phrase.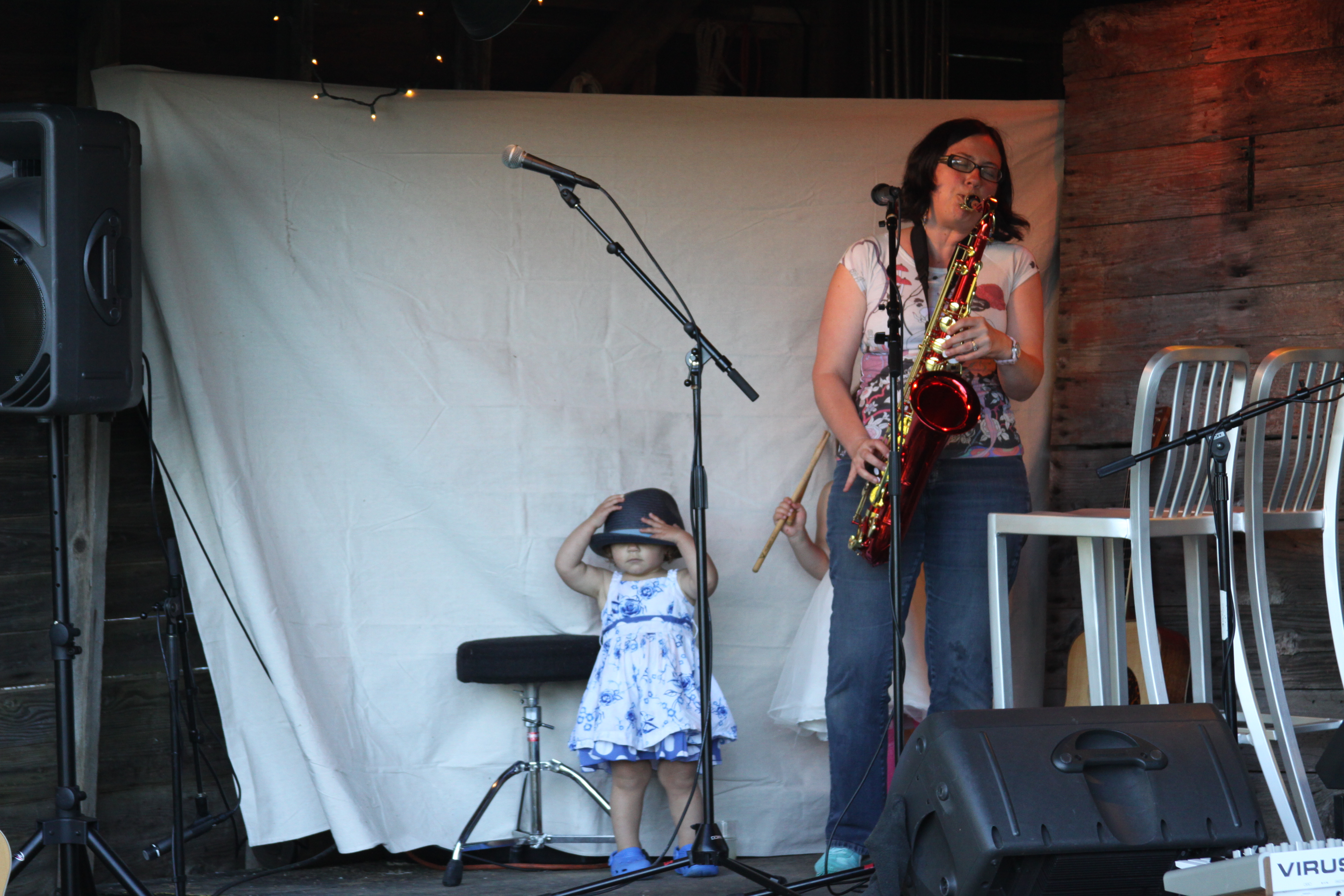 Here I am performing the Pink Panther on the barn stage on King's Mountain. My daughters refused to let me be on stage without them, so they became part of the performance.
My husband, Bobby, played one of his compositions on the keyboard. He started out alone, and then our oldest daughter stealthily approached the drum set with sticks, then our youngest, then their friend Lexi, and Bobby's piece gained a seriously unsystematic rhythm section, to everyone's amusement.