A few days ago I discovered the art of Brian Dettmer through a friend's Facebook post. Brian takes old books, encyclopedias, medical dictionaries and carves them with surgical tools to create 3D stories from the words and pictures already in the book. The results are mesmerizing.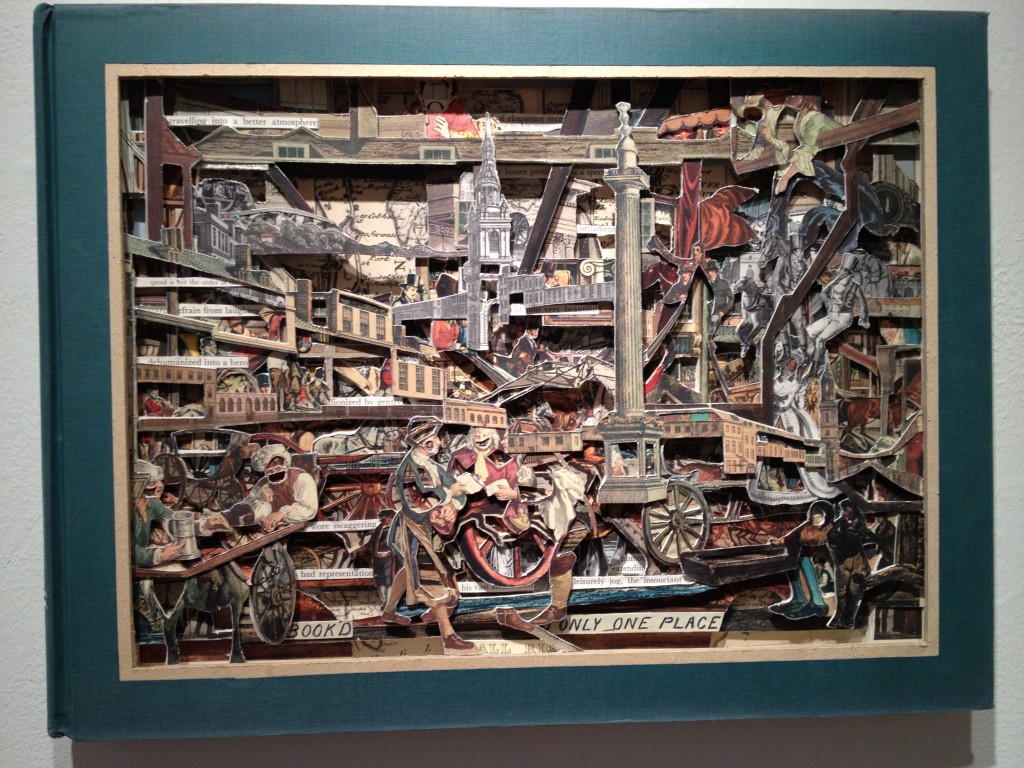 Coincidently (or was it?) I also discovered that the Toomey Tourell Fine Art Gallery is hosting the "Brian Dettmer Textonomy" right now in San Francisco. And since it was ski week and my almost-five-year-old daughter Saskia was home, I decided to bring her along.
Trying to make the whole experience positive, we took BART into the city, which was great fun. It goes under ground, it comes back up, then back down. There are lots of interesting people on the train about whom Saskia
commented out loud… Fun times. The city greeted us with sun and pigeons, which she chased tirelessly around Union Square while I attempted to get some nutrition in her until our friend David met us and we were off to Toomey Tourell.
Saskia has been to the theatre before, so when I said "We're going to see an art show in San Francisco" she expected a live performance with actors dressed up as mice, or cats, or little princes. I didn't realize this until we got there. First mistake – she was suddenly a lot less interested. Then I described the art gallery as a room with windows to the street so you can see the art inside. Second mistake – alas, Toomey Tourell is actually on the fourth floor of an office building, with no windows, and Saskia didn't want to go inside anymore.
Still, David and I powered through, kept the experience positive (although on the inside I was rather stressed), and made it into Brian Dettmer's exhibition.
Saskia's first words once inside: "Let's get out of here. I want to go home". To her credit, it was eerily quiet, and there was a rigid-looking woman sitting behind a very tall and imposing counter. I really wanted to see the pieces, so I nudged her along gently. She ran to the opposite side of the room from me and starting caressing a piece that looked like a centipede. "Saskia, NO! No touching!" came out of my mouth. Third mistake – once you tell her not to do something, she stops cooperating. She started running circles around the room, getting dangerously close to art and touching everything she could reach.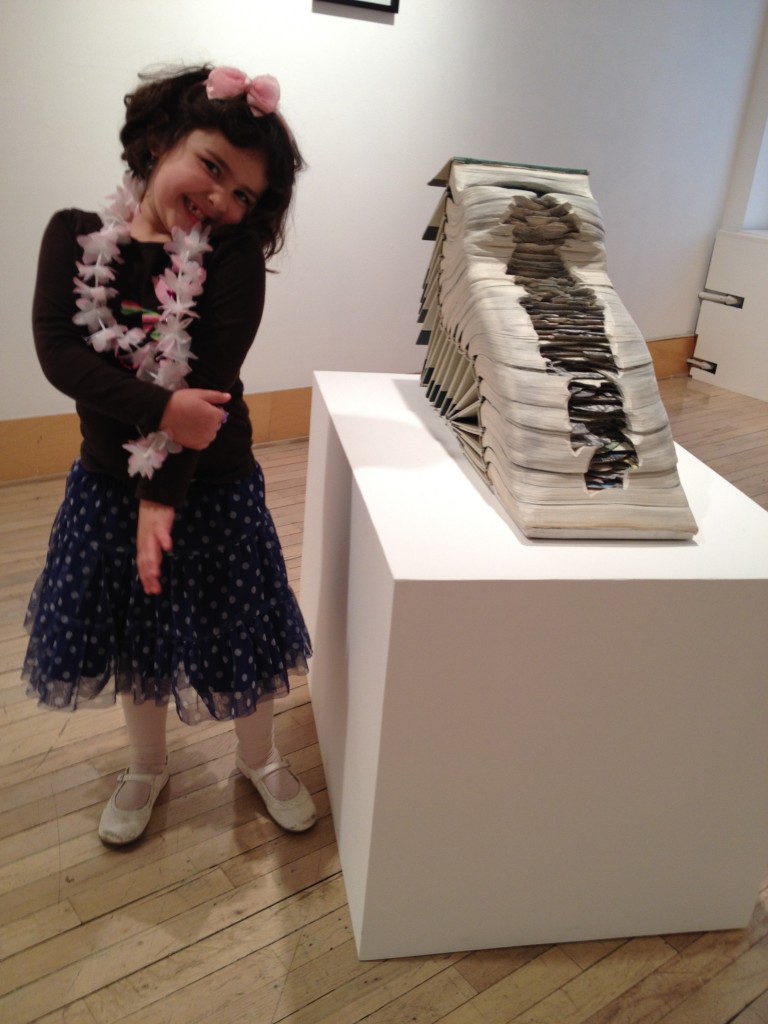 I was ready to chalk this experience up as a failure, when she noticed a picture of two beagles behind the rigid-looking woman's desk. We also have two beagles. The woman turned out to be particularly nice, engaged Saskia in a conversation about beagles, and softened her up to such an extent that not only did she look at the art, but we ended up going into all the other galleries on the same floor. Each time we went inside, Saskia would take a sidelong glance at the curator, quickly decide whether they were "nice" or not, and behave accordingly. Most of the galleries, she was either ignored or looked at as if she was a potential Tasmanian Devil. The only other gallery where the curator engaged Saskia and actually talked to her about art was the Jack Fischer Gallery, presenting Juan Carlos Quintana's show "Solace from the wild side".
I don't expect an almost-five-year-old to stand patiently in front of each piece of art and analyze it. She'll run through the room, want to touch anything she can, while her brain – make no mistake about it – registers what she sees. But I want to expect an art gallery curator to welcome, interact with, and inspire any child who actually makes it through their doors. Hint: that child will want to come back, both now and when they're older.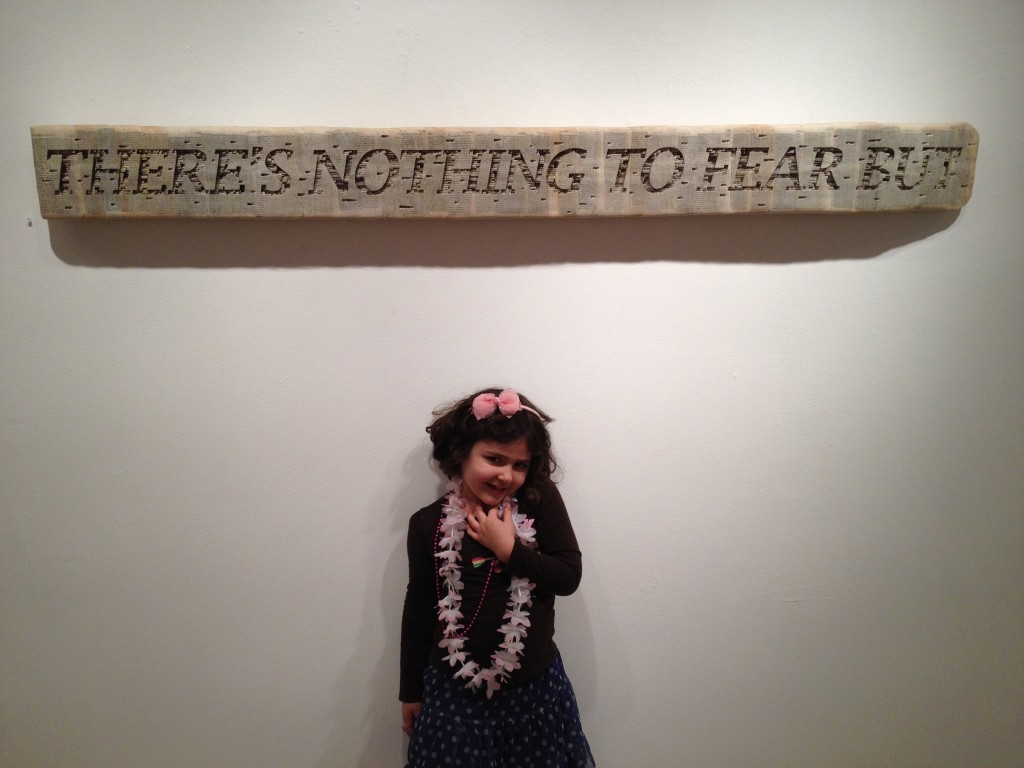 "Brian Dettmer Textonomy" is on exhibit at Toomey Tourell Fine Art through March 31st, 2012.
Juan Carlos Quintana's "Solace From the Wild Side" is on exhibit at the Jack Fischer Gallery through March 24th, 2012.